The air is now crisp in Toronto, but you will feel the warmth at arts and culture events this month, with Italian-themed art exhibitions and concerts at Istituto Italiano di Cultura, Hot Docs Ted Rogers Cinema, 918 Bathurst, and Tafelmusik. There will be Cuban and other Latin American music at The Royal Conservatory of Music, and Caribbean cultural events at A Different Booklist. Escape into fantasy worlds by diving into Alice in Wonderland at the Toronto Reference Library, see a groundbreaking opera with lyrics by Langston Hughes at U of T Faculty of Music, or a timely musical with lyrics by Dolly Parton at the Randolph Theatre. There are so many wonderful worlds to discover on the Bloor St. Culture Corridor!

We love to hear from you!
Connect with the Bloor St. Culture Corridor on Facebook, Twitter, LinkedIn & Google.
A Different Booklist Cultural Centre
There are some great events happening at A Different Booklist Cultural Centre this month. R.I.S.E continues with the Spoken word on November 1. A tribute to steel pan pioneer Ellie Mannette is on November 2. Randell Adjei launches 'I Am Not My Struggles' on November 3, an entrance fee of $20 is inclusive of a copy of the book. The Socialist Project launch will the book Global Warming and the Sweetness of Life: A Reading and Conversation with Matt Hern and Shiri Pasternak on November 7. November 10 is the launch of Habiba Cooper Diallo 'Yeshailem Learns About Fistula' and Inanna Publications' launch of Madeline Coopsammy's new YA novel, 'The Old Songs', and Glynis Guevara's new YA novel, 'Black Beach'. On. November 14, see the Award-winning Author, Educator, Speaker and Poet Sharon Draper for the release of her new book 'Blended'. Please visit adbcc.org for more information and the complete calendar of events.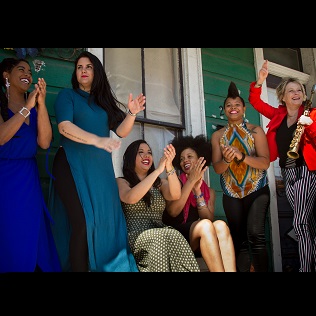 The Royal Conservatory
The 10th anniversary concert season continues at Koerner Hall. Juno Award winner Quique Escamilla celebrates the Day of the Dead on November 2 with a joyful and high-energy El Día de los Muertos party with theatre, dance, storytelling, décor, and Latin American-infused roots music. Daniel Hope and Friends AIR – A Baroque Journey takes audiences an outrageous romp through the baroque with a dazzling ensemble of virtuosi minstrels on November 3. Pianist Gabriela Montero makes her Koerner Hall debut on November 25 with a special program called Innocence and Experience. She performs Schumann, Shostakovich, and Chick Corea, as well as her own Memories from Childhood and renowned improvisations. On November 30, Canadian saxophone and flute master Jane Bunnett & Maqueque All-Stars brings the soul of Cuba to Koerner Hall, including vocalist Daymé Arocena. For more information and tickets, please visit rcmusic.com/performance.
Istituto Italiano di Cultura
Continuing this month the exhibition Guido Guidi - A New Map of Italy gathers more than 50 works from the collection of the CCA - Canadian Centre for Architecture of Montréal. Guidi focuses on the spontaneous suburban architecture, on harsh secondary roads, on spray-painted walls, abandoned depots and construction sites to form a complex and stratified portrait of the contemporary landscape. On November 2 the lecture The Art and Science of Leonardo explores the necessity of the interaction of art and science in Leonardo's work. What can this Renaissance genius teach people today in the search for the best of sustainable worlds? On November 9 the lecture Galileo's Book of Nature looks at Galileo's famous passage about the book of nature being written in the language of mathematics. Both lectures are by Franco Gallippi. For more information visit iictoronto.esteri.it.
Miles Nadal JCC
The Miles Nadal JCC presents the following Holocaust Education Week (HEW) programs: The Unknowable, a Neuberger HEW artifacts/photography exhibit opening on November 1 in the gallery, then on November 4, the Toronto Jewish Film Society will screen the Toronto premiere of a documentary, Destination Unknown. Joseph Gilbert will lecture on Entartete, or "Degenerate" Music on November 8. Come to the special Remembrance Day Commemoration and Poetry Writing Workshop on November 11, and on November 15, architectural historian Marta O'Brien explores The Annex: Toronto's First Suburb. In the Al Green Theatre: Seen by Scene Entertainment presents dramatic-comic theatre, Departures & Arrivals from November 8 to 11, Innovative Arts Musical Theatre presents Fame from November 15 to 17, and the MNjcc presents So Long, Leonard, a tribute concert on November 18. For more information please visit mnjcc.org.
918 Bathurst Centre for Culture, Arts, Media and Education
November kicks off at 918 Bathurst with a co-presentation of Dala Abu Amneh as part of the Canadian Arabic Orchestra's Festival of Arabic Music and Arts on Thursday, November 1. Then, Horror Rama returns to 918 for a 2-day festival of all things horror, November 3 and 4. Monday, November 12, 918 Bathurst partners with the Istituto Italiano di Cultura for a presentation of Italian songs from concentration camps. November 15-24, Koffler Centre for the Arts returns to 918 Bathurst for Like Mother Like Daughter, a live experiential theatre creation. Finally, Thursday November 29, TorQ Percussion Quartet returns to 918 Bathurst for a performance featuring their thunderous sound. For more info please visit 918bathurst.com.
Hot Docs Ted Rogers Cinema
Hot Docs Ted Rogers Cinema brings your favourite audio storytellers from the studio to the stage at Hot Docs Podcast Festival from November 1-5. Featuring over 10 chart-topping podcasts performed live, including Levar Burton Reads, Criminal, Startup, and The Allusionist—plus, a new Creators Forum conference for podcast makers and industry pros. After a buzzed-about premiere at Hot Docs 2018, the drop-dead funny doc The Bill Murray Stories returns starting November 9 with a fascinating look at Hollywood's most elusive star. Discover an intimate portrait of one of the greatest sopranos of the twentieth century in Maria Callas; explore the life of Grammy Award–winning composer and piano virtuoso Chilly Gonzales in Shut Up And Play The Piano; and embark on a journey to post-embargo Cuba with New Orleans' famed Preservation Hall Jazz Band in A Tuba To Cuba, the latest installment of Music on Film presented with The Royal Conservatory. More information at hotdocscinema.ca.
The Gardiner Museum
November brings exciting new exhibitions and programs to the Gardiner. The Maker Break series showcasing influential Toronto makers and artisans continues throughout the month: on November 3, Secret Teatime will introduce us to the Way of Tea through a ceremony using their own handmade vessels, while Tokyo Smoke will delve into the latest in ceramic cannabis accessories on November 24. On November 7, Power and Possession—a panel hosted by CBC's Sean O'Neill and featuring Candice Hopkins, Marc Engstrom, and Adrian Stimson—will explore the topic of private collections and issues of appropriation and repatriation inspired by the exhibition Obsession: Sir William Van Horne's Japanese Ceramics. On November 15, we're launching the New + Now Gala, a new fundraiser featuring an exciting International Ceramic Art Exposition and an exclusive first look at a museum-wide installation by Canadian ceramist David R. Harper. Learn more at gardinermuseum.on.ca.
Bata Shoe Museum
Give the gift of warmth at the Bata Shoe Museum this November. The Warm the Sole Sock Drive runs all month long, with free admission with a donation on the weekends! On November 4, join the Art and Sole Academy for a Shoe Design Workshop to learn creative shoe-design drawing techniques. Celebrate World Origami Day with a Shoe Origami Workshop, where all ages and skill levels can create origami shoes. Explore Manolo Blahnik: The Art of Shoes through Exclusively Manolo programming. On November 15 the museum welcomes Lisa Immordino Vreeland to present her film Love, Cecil, a documentary exploring the costume design of Cecil Beaton, followed by a Q&A. On November 27, enjoy a tour of Manolo Blahnik: The Art of Shoes with Senior Curator Elizabeth Semmelhack and raise a glass of bubbly to celebrate the birthday of the man behind the shoes. Visit batashoemuseum.ca for more information.
Museum of Estonians Abroad/VEMU
In November at the Museum of Estonians Abroad/VEMU the photography exhibit Estonia Through 100 Pairs of Eyes is available to view. November 8 at 7pm, hear with the artist-in-residence at the Hamilton Cotton Factory at A Meeting With Peeter Laurits from Estonia. In Estonian. Admission by donation. On November 28 at 7pm, artist Laani Heinar will be leading a handicraft workshop on how to make reed traditional Estonian Christmas ornaments. In English. For more information please visit: vemu.ca.
Tafelmusik Baroque Orchestra and Chamber Choir
Tafelmusik Baroque Orchestra and Chamber Choir welcomes star Canadian mezzo-soprano Krisztina Szabó to Jeanne Lamon Hall, Trinity-St. Paul's Centre from November 8–11, 2018 in Steffani: Drama & Devotion. Discover sacred and secular works by this forgotten composer of the baroque era with Ms. Szabó, Tafelmusik Chamber Choir and Choir Director Ivars Taurins. From November 21–25, renowned British trumpeter David Blackadder makes his Tafelmusik debut in Sound The Trumpet!, a festive musical journey through baroque Europe full of gleaming instrumental gems by Lully, Telemann, Bach, and more. Both concerts feature a free pre-concert chat one hour before each performance with special guest speakers. Then delve a little deeper into baroque music with The Listening Club, a special series, moderated by BBC Radio host and musicologist Dr. Hannah French with oboist John Abberger. Join the discussion on November 12 at Trinity-St. Paul's Centre. For tickets, call 416.964.6337 or visit tafelmusik.org.
The Japan Foundation of Toronto
Drop by the Japan Foundation of Toronto gallery this month to see the new exhibition, Noriko Maeda: Foundations, which continues until January 11, 2019. On November 14, between 12pm and 1pm, join the free Bring your own Bento – Drop-in Lunchtime Language Lesson. For those who didn't get spooked enough last month, the Japan Foundation, Toronto is screening some films from Japan exploring the Dark & Occult including Shinya Tsukamoto's cyberpunk Tetsuo The Iron Man, Nobuhiko Obayashi's bizarre Hausu and Shiro Moritani's epic Tidal Wave. The Saturday special opening days for our library and gallery this month are November 3 and November 17. More details available at jftor.org.
University of Toronto Faculty of Music
The University of Toronto Faculty of Music kicks off November with a preview of U of T Opera's production of Street Scene at Thursdays at Noon. The free, lunchtime concerts resume November 15 with Women on the Verge (Elizabeth McDonald, soprano, Emily Martin, soprano, and Kathryn Tremills, piano); November 29 with Steinway Concert Artist Enrico Elisi performing works by Mozart, Rihm, Beethoven, and Chihara (world premiere). On November 12, Adjunct Professor Stephen Clarke presents a free lecture on Opera and Song 100 Years Ago to mark the Faculty of Music's centenary. November 16 the Chamber Music series presents the New Orford String Quartet and special guests in a program of Brahms and Mendelssohn. U of T Opera's fall mainstage production is Street Scene, Kurt Weill's groundbreaking synthesis of traditional opera and American musical theatre, with lyrics by Langston Hughes. Four performances only November 22-25. More information at music.utoronto.ca.
The Music Gallery
Dastagh, created by Adam Rudolph and Araz Salek is sequel of sorts to American percussionist-conductor Rudolph's Music Gallery encounter in 2016, in which his Go:Organic musical system has been adapted to accommodate Iranian scales by Salek. A stellar 16-piece ensemble of local players with classical, jazz, and modal music training brings this new language to life on November 17. Another edition of Anne Bourne's Pauline Oliveros-inspired Listening Choir is on November 25. Co-presentations include New Music Concerts' presentation of the biannual Generation tour showcasing four emerging composers from across Canada performed by Montreal's ECM+ Ensemble, November 11. Speculation is a multi-disciplinary concert that weaves together monologue and projections with live performances of Beethoven and John Cage to tell a mother-daughter story about loss and listening. The two-night run on November 30 and December 1 features a live taping of Laurie Brown's Pondercast. For more info, visit musicgallery.org.
The Toronto Reference Library
TD Gallery's Alice Opens the Door exhibition opens on November 17, follow Alice into the mixed-up world of Wonderland! Enjoy this lively exhibit of early editions, artwork, toys, games and memorabilia from the library's Osborne Collection of Early Children's Books. The Appel Salon season continues with Lindsay Wong discussing her debut book, The Woo Woo: How I Survived Ice Hockey, Drug Raids, Demons, and My Crazy Chinese Family, on November 12 and Susan Orlean, the bestselling author of The Orchid Thief, on November 20. As part of the On Civil Society series, Rebecca Traister stops by on November 14 to discuss her latest book, Good and Mad: The Revolutionary Power of Women's Anger. For more information please visit torontopubliclibrary.ca.
Randolph Centre for the Arts
In Randolph College's presentation of 9 to 5: The Musical, three female coworkers are pushed to the boiling point by the sexist, egotistical, lying, hypocritical bigot they call their boss, and concoct a plan to get even with him, eventually learning there is nothing they can't do, even in a "man's world". With music and lyrics by Dolly Parton, 9 to 5 The Musical runs Randolph Centre for the Arts' Annex Theatre, 730 Bathurst, November 27 – December 1. Tickets available at ticketweb.ca.
Friends of the Bloor St. Culture Corridor
Bloor-Yorkville BIA
On Saturday, November 17 from 5pm to 7pm, the Bloor-Yorkville Business Improvement Area (BYBIA) will kick off the holiday season in the vibrant heart of the city by presenting Holiday Magic, the spectacular annual community concert event in support of the Canadian Foundation for Aids Research (CANFAR). Friends, families and music lovers are invited to the Village of Yorkville Park (Cumberland St. & Bellair St.) for the Official Flick the Switch Lighting Ceremony and to enjoy a special performance by musical guest, Canadian pop star Shawn Hook. The Village of Yorkville Park will remain illuminated throughout December. More information available at bloor-yorkville.com/holidaymagic.
Bloor St. Culture Corridor Intro Video